The Scottish Police Authority (SPA) is committed to ensuring the best possible policing service is delivered throughout Scotland. We appreciate, however, there may be times when you are dissatisfied with the service provided and, if so, we would welcome your comments.
If you do wish to make a complaint, we will:
Respond promptly
Treat you with fairness and courtesy
Keep you informed of progress
What complaints CAN the SPA deal with?
We are responsible for recording, processing and managing complaints about:
Assistant Chief Constable
Deputy Chief Constable
Chief Constable
A Board member of the SPA
A staff member of the SPA
The SPA itself
The SPA CANNOT deal with complaints about:
A police officer of Police Scotland at the rank of Chief Superintendent, Superintendent, Chief Inspector, Inspector, Sergeant or Constable; A Special Constable; a cadet or Police Staff working within Police Scotland, where that member of Police Scotland has failed to meet the standards you expect of if you believe they have behaved unfairly or incorrectly.
Police Scotland's quality of service, for example, their policies and procedures or the delivery of their service and the outcome.
These are dealt with by Police Scotland. For further details on Police Scotland's complaints process, please click on the following link:  Police Scotland complaints process or scan the following QR code: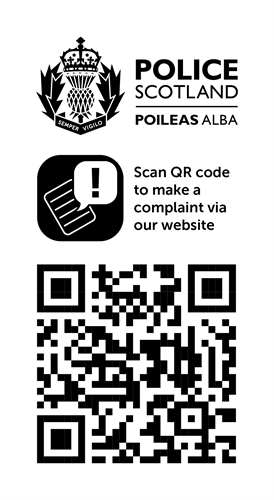 Click on the appropriate link below for more information: